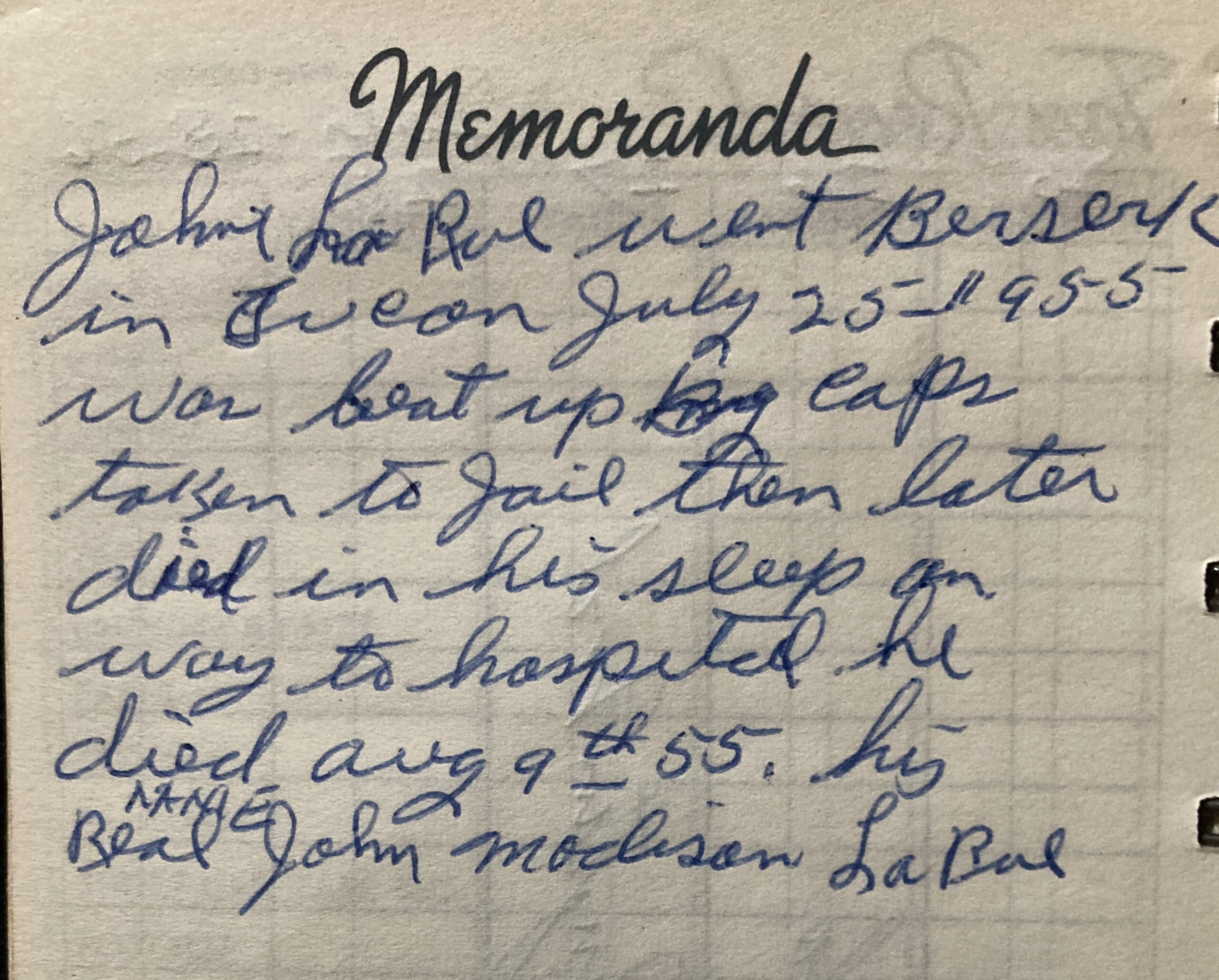 Two things I learned early on after I started writing about pro wrestling:
No one ever retires, so don't bother writing about it when someone says they are retiring.
People you love are going to die young, and unexpectedly.
It's an unfortunate fact about pro wrestling: many wrestlers die long before their time. Sometimes it's the abuse they put on their bodies, physically and chemically. Sometimes it's self-inflicted. Sometimes it's just plain and simple misfortune.
Not a day goes by I don't think about two men I knew well who have passed: Tracy Smothers and JJ Maguire. Tracy and JJ both kept in regular contact with me. I'd get a call from JJ every few weeks, just to catch up. Tracy texted and called all the time, and Tracy was never hesitant to say, "I love you."
For some time now, I've been wanting to write about a man who has been gone since 1955. He's not a name most if you will know, but he was known to "The Black Panther" Jim Mitchell.
John Madison LaRue was born in Venus, Texas on August 25, 1906. He started wrestling professionally in the early 1930s, and WrestlingData.com records his last match taking place in 1947.
LaRue was in Tucson, Arizona during the summer of 1955 when Jim Mitchell and his protege Ricky Waldo were working the desert circuit. While passing through Tucson, the news of a recent incident reached Mitchell, who recorded the following in his ledger book:
As Tracy Smothers used to put it, "Tell a friend, telephone, tell a wrestler."
LaRue's troubles started a few days before Mitchell and Waldo hit Tucson on the 26th. On Saturday the 23rd, police were called to the scene of a man on a roof creating a disturbance. LaRue had been drinking and destroyed a mirror and some telephone wires in his rented apartment. LaRue told police that "Everything is wired," as they carted him off to the hospital.
An hour later, police received a second call about a disturbance. It was LaRue again, tearing up street signs, ordering drinks in a bar without paying for them, and harassing guests at a local motel. LaRue earned a trip to jail this time, and the following morning, he was placed in a straight jacket after tearing up his cell.
Mitchell's written account indicates there was more to the story, or at least a second version of events that didn't make it into the papers.
LaRue had previously been treated for mental illness at a veteran's hospital in Texas. After ten days in Arizona, LaRue boarded a train with two hospital attendants, bound for a facility in Texas.
LaRue would never make it to the hospital. He was found dead on the train on Thursday, August 4, 1955, just a few miles from his destination.
Authorities delivered John LaRue's body to a Fort Worth, Texas funeral home. A local coroner examined the body and confirmed the death was by natural causes. LaRue was three weeks short of his 49th birthday when he passed away.
Reading between the lines, we can make some educated guesses as to what took the life of John LaRue. Perhaps his mental health issues stemmed from his time in the service. He might have suffered head trauma during his years in the ring. Maybe it's a bit of both.
Regardless of what issues John LaRue had, he gave his time and his talents to entertain wrestling fans. He died at a young age under mysterious circumstances like many wrestlers before and after him. He had a story. A tragic tale, yes, but one all his own.
Not every story is a big one. Not every story is worthy of a book or even a blog post. But every life matters to someone, be it family, friends, or fans.
Wrestlers feel every loss, no matter how big or small the name. Mitchell felt the loss of LaRue the same way Jimmy Hart felt the passing of JJ Maguire. You never know when someone's time is up, and often, you never know the underlying issues that might lead to their passing.
Cherish the moments you have, as fans and as wrestlers. As Tracy always said, "Love each other." And as my friend Aaron Grider and many others say, "Take the damn pictures."