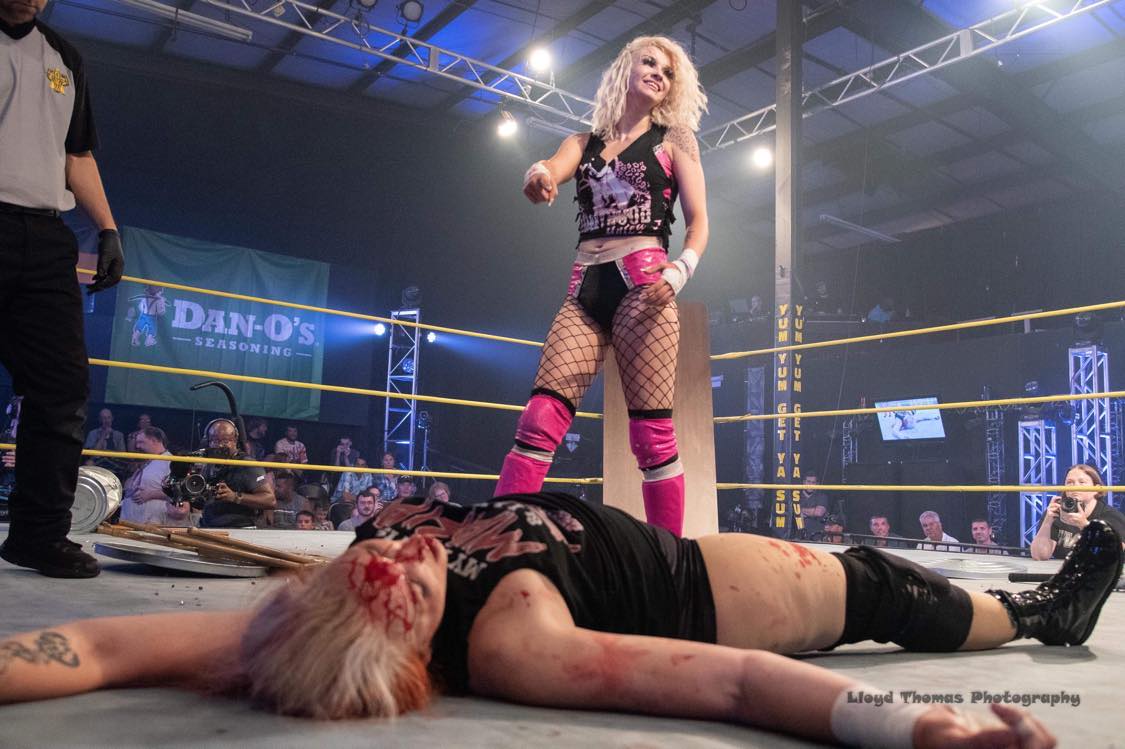 For the last year, I've watched very little wrestling on TV.
I used to hit the gym every Wednesday and Friday night, partly to catch AEW. It's not a priority any more. I go when it fits my schedule, and if wrestling's on I'll watch it… sometimes.
I watched the Royal Rumble in January. I'll never miss that. And I think I watched Wrestlemania. The "I think" in that statement shows how memorable it was.
And I watched Forbidden Door this summer, thought more to see the New Japan stars than anything. Daniel Bryan's got some paybacks coming from Okada…
It wasn't until recently I realized why I watch so little TV wrestling. I've been getting my fix almost weekly at Davis Arena. I've been a regular over a year now, and my daughter's been coming with me for almost ten months. I get two solid hours of live wrestling every week, action that's good enough, I don't need another fix.
Wrestling is subjective, and not every promotion is for everyone. The WWE-only Marks and the AEW-only Marks are proof of that. So I get it, OVW is not going to be for everyone either.
But I'm willing to bet it's exactly what many of you have been looking for.
I've said it before and I'll say it again. This is not your father's OVW. This is not a school of wrestling. It's not developmental. It's a professional wrestling territory based in Louisville, Kentucky with a worldwide fan base. They're on lesser-known networks than the big two, but they're also on more TV channels in more time slots every week than either WWE or AEW.
The roster is not green by any stretch. They have some brilliant young talent for sure, but they're mixing it up every week with long-time veterans. Cash Flo, Jessie Godderz, Hy Zaya, Mahabali Shera, Tony Gunn, Adam Revolver, Omar Amir, Truth Magnum, Turbo Floyd, Jack Vaughn, Big Zo. Any one of the above could step into the ring and hold their own against the best in the world.
They're also more committed to women's wrestling than any major promotion outside Impact. Netflix star Maria James has assembled a tremendous women's locker room, and there's huge potential for the future in girls like Haley J, Freya the Slaya, Shalonce Royal, Tiffany Nieves, Jada Stone, Arie Alexander, and Leila Gray.
There are so many more names I could drop, names I want you to look up or better yet, come see in person: Eric Darkstorm, Deget Bundlez, Luscious Lawrence, Crixus, Tony Evans, Luke Kurtis, Joe Mack Gnarls Garvin, Ryan Von Rockit, and my daughters favorite, Kal Herro. I want you to hear the joy in Eric Cornish and Linda Kay's voices as they introduce each wrestler. I want you to feel the energy at the announcer's desk radiating from Brian Kennison, Steven Johnson, and Josh Ashcraft.
I want you to come see OVW live.
If you haven't watched the documentary on Netflix yet, by all means, check it out. It's a great watch, and a love letter to professional wrestling. You'll come away with a deeper appreciation for the hard work that goes into running a wrestling territory, especially in modern times.
And I'm betting many of you will want to come see for yourself what Al Snow is cooking down here in Louisville.
Get your tickets in advance at www.ovwrestling.com.
If you know any OVW talent, slide into their DMs and see if they have a discount code for your ticket.
Come early, and as I mentioned on Slam, go grab a Cuban sandwich at Mi Sueno on Bardstown Road.
Davis Arena is located at 4400 Old Shepherdsville Road in Louisville. It's easy to drive past because it's set back from the road in an industrial area surrounded by similar-looking metal buildings. There's usually a sign out by the road, but your best bet is to plug it into your Map app and trust Siri when she says, "Turn right into the parking lot."
Get there by 6:30 so you don't miss the dark matches. And so you can get a decent parking spot.
Bring money for concessions and merch. You can actually pick up a copy of Bluegrass Brawlers from Miss Becky!
And if you have one, bring a seat cushion. Those metal chairs are pretty stiff.
In the words of OVW legend Dean Hill, "See you at ringside."
Featured photo by Lloyd Thomas Photography.