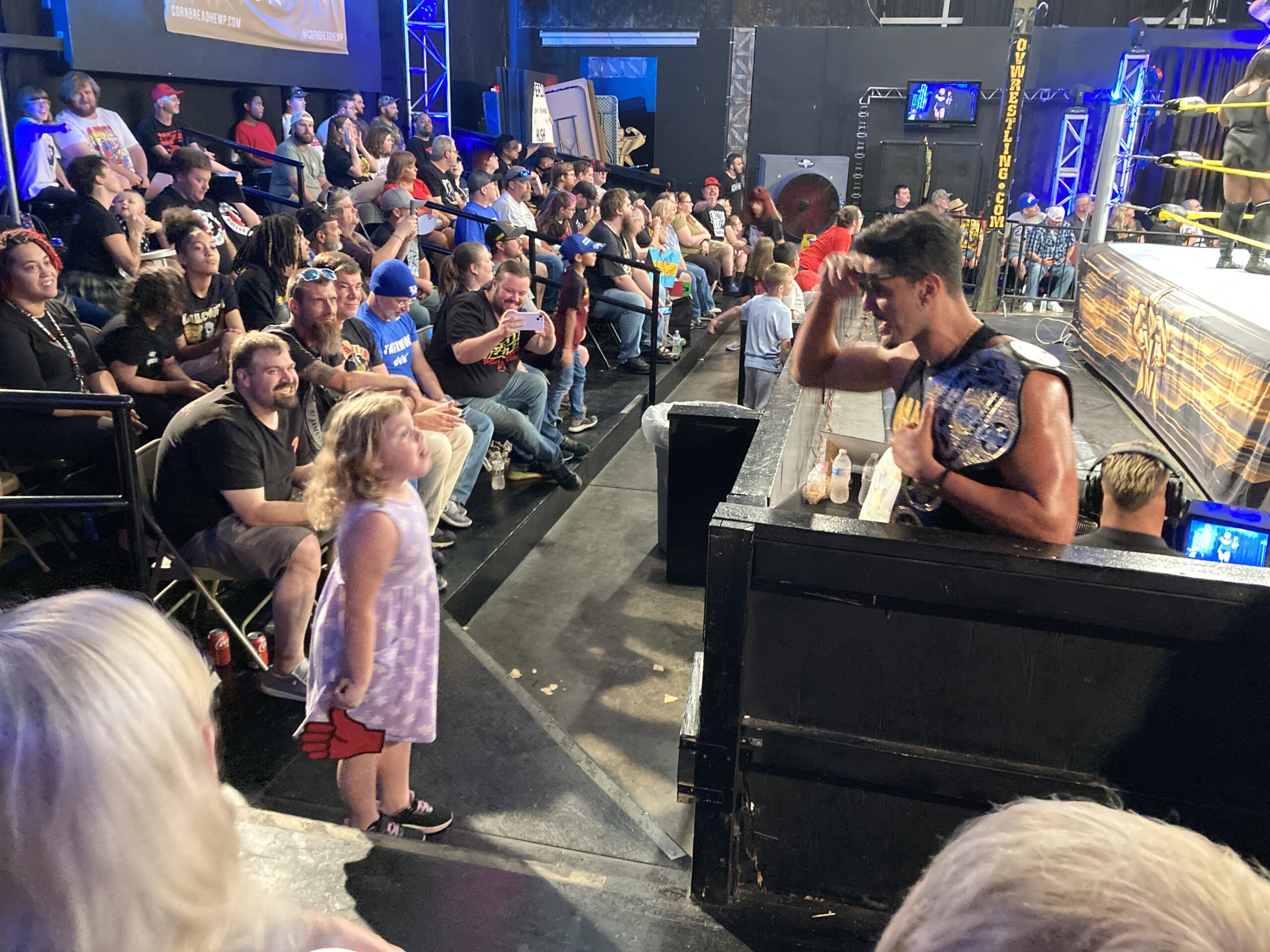 On September 28 in Davis Arena, four tag teams locked up this week in a Four Corners match. Luke Kurtis and Joe Mack of the OVERmen, the current tag team champions, came out to the commentary desk. Luke put on a headset, while the 6'7″ Joe stood tall behind him looking tough.
Along came Gracie.
If you haven't seen Wrestlers on Netflix, Gracie is the pint-sized girl leaning out the window of a car telling Joe, "You're a baby!" Every fan, wrestler, and OVW staff member knows and loves Gracie. She's one of many kids who love to get high fives from the babyfaces and tell the heels they suck.
My daughter Lydia and I were in the second row behind the announcers this week. To be honest, we didn't see much of the tag match because we were watching the unsanctioned match happening a few feet in front of us.
"You're a baby!"
"No, you're a baby!"
"You're a baby!"
"You're a baby!"
The action in this epic war of words began during a commercial break, when Luke, Joe, and the first few tag teams made their entrance. By the time we were back to live action, Gracie had back up. Six kids in total joined in the shouting match, watching signs and thumbs down at Joe.
You could see on his face Joe was struggling to keep it together. He loves this as much as the kids. He was also a bit concerned about not being on his mark, doing what he had come out to do. Still in character, he tried pleading with the kids to go back to their seats, even whining to them at one point like a toddler, "You're gonna get me in trouble."
Before it was over, Joe had challenged Gracie to a hair vs. hair match and vowed not to give any of the kids candy if they came to his house on Halloween.
Joe Mack is a stud. He's got the look. He's got the size. He's going to be a star, and he's going to be a world champion. But when the story of his career is written down one day, the first – and perhaps greatest – rival in his career will certainly be Gracie.
Referee Aaron Grider proposed a slogan: Gracie 3:16 says, "You're a Baby."
Here are a few other notes from this past week:
Everybody Hates Tony. 
The boo birds came out for the usual suspects all night, but man, "Superior" Tony Evans is not a popular guy. He's hit on something big with his "HUSH!" gimmick, and his feud with Crixus is far from over.
OVW is definitely not your father's (or mother's) OVW, but Tony, Luke Curtis, Will Austin, Joe Mack, and others are proof this company is not done developing talent.
Everybody Loves Cash and Haley J. 
Without a doubt, the two most over people in the building now are Cash Flo and Haley J. Cash has delivered two solid, thrilling matches in a row. Haley hasn't wrestled the past two weeks, but any time she makes a run in to confront the Bad Girls Club, the fans go nuts.
Jack vs. Jessie Was a Classic. 
Introductions for the main event started before 8:30 pm. It didn't last 'til the end of TV time, but Mr. Pec-Tacular Jessie Godderz and The Veteran Jack Vaughn went more than 20 minutes. Either one of these guys could hang with the best in the industry, and it'll be interesting to see which of the main event talents gets picked off in the coming months.
My money's on Shera. No spoilers here, but he's not going to be with the OVERmen for much longer. He's too popular after Wrestlers on Netflix to keep him as a heel.
I Miss Shaloncè Royal. 
No elaboration here. I'm just putting it out there. I miss Shaloncè. She hasn't been on the show for a bit, nor has her surprisingly over attorney, PJ. I think the world of her as a wrestler and as a human being.
If you missed my interview with her on Slam last year, you can read it here. We talked for over an hour, and less than half of the call was about wrestling. We talked a lot of opera. I really want to see her succeed in the ring, almost as much as I want to hear her sing "Musetta's Waltz."
Babyface Turn Masterclass.
If you want to see how you turn the most hated man in the company into a hero, go back and watch the last several weeks of OVW, starting with the August pay-per-view, The Big One. Actually, go back further. To the beginning of summer. Watch how they slowly sow the seeds of trouble between Jessie Godderz and EC3. Watch how things accelerate after EC3 wins the NWA World Championship.
The fans booed, but timidly, the night The Faction turned on Jessie and became the OVERmen.
A few timidly cheered Jessie the next week.
A few more the next.
They exploded when Jessie jumped Jack last night.
Shannon the Dude helped seal the deal Thursday – the same night Jessie showed up at the gimmick tables selling merch.
OVW preaches old school storytelling and psychology. They practice what they preach. The next time Jessie starts up with, "As I was saying…" I expect the fans to say it with him.
For the second week in a row, OVW was a sell out on September 29. Tickets for the next TV taping on October 5 are selling fast, as are seats for the Oct 21 "No Rest for the Wicked" PPV. (Tip: if you subscribe to FITE, the PPV is included with your subscription!")
Long story short, if you want to see Ohio Valley Wrestling, you better buy seats in advance. This Netflix bump is not ending soon!