There's a core group of fans who attend Ohio Valley Wrestling every week. For the last five weeks, and honestly for the foreseeable future, I've become one of them.
It's been fun over the years dropping in and out to see how the promotion changes and to watch wrestlers come into their own. Having seen the tag team Dark Cloud in one of their first OVW matches versus seeing them now, interacting with the fans, it's incredible how much they've evolved. But you make a much different connection with a promotion when you never miss a show. Wrestlers who may not catch your attention that first week may draw you in the second, third, or fourth time you see them.
After more than a month of live shows, I thought I'd share here a few talents that have really caught my eye. I'm purposely not including friends of mine or long-time OVW standouts. The five (make that six) wrestlers mentioned are people who have grown on me and kept me wanting to go back every week.
Shalonce Royal
Oh how the fans hate Shalonce! They hate her arrogance. They hate her dirty tricks. And they hate – HATE! – her singing. Shalonce sings through every match, her powerful voice belting high note after high note, as she wears her opponents down. She's fast, she's powerful, and she's relentless.
In real life Shalonce is a trained opera singer, and she's not the first such talent to come along in pro wrestling. Back in the 1950s, a woman named Gloria Barratini made the jump from singing opera to pro wrestling. I don't know that Gloria sang in the ring to the delight (or dismay) of the fans like Shalonce does, but she did wrestle in Louisville a few times, including a bout against the great Mae Young at The Armory (Louisville Gardens).
Shalonce has a lot of charisma, and she's a heck of a wrestler. She also had a show-stealing match with Jada Stone (another new-to-me face!) during the September 1 TV taping. And I love watching the fans hate on her almost as much as I enjoy watching her wrestle.
Click here to follow Shalonce Royal on Twitter.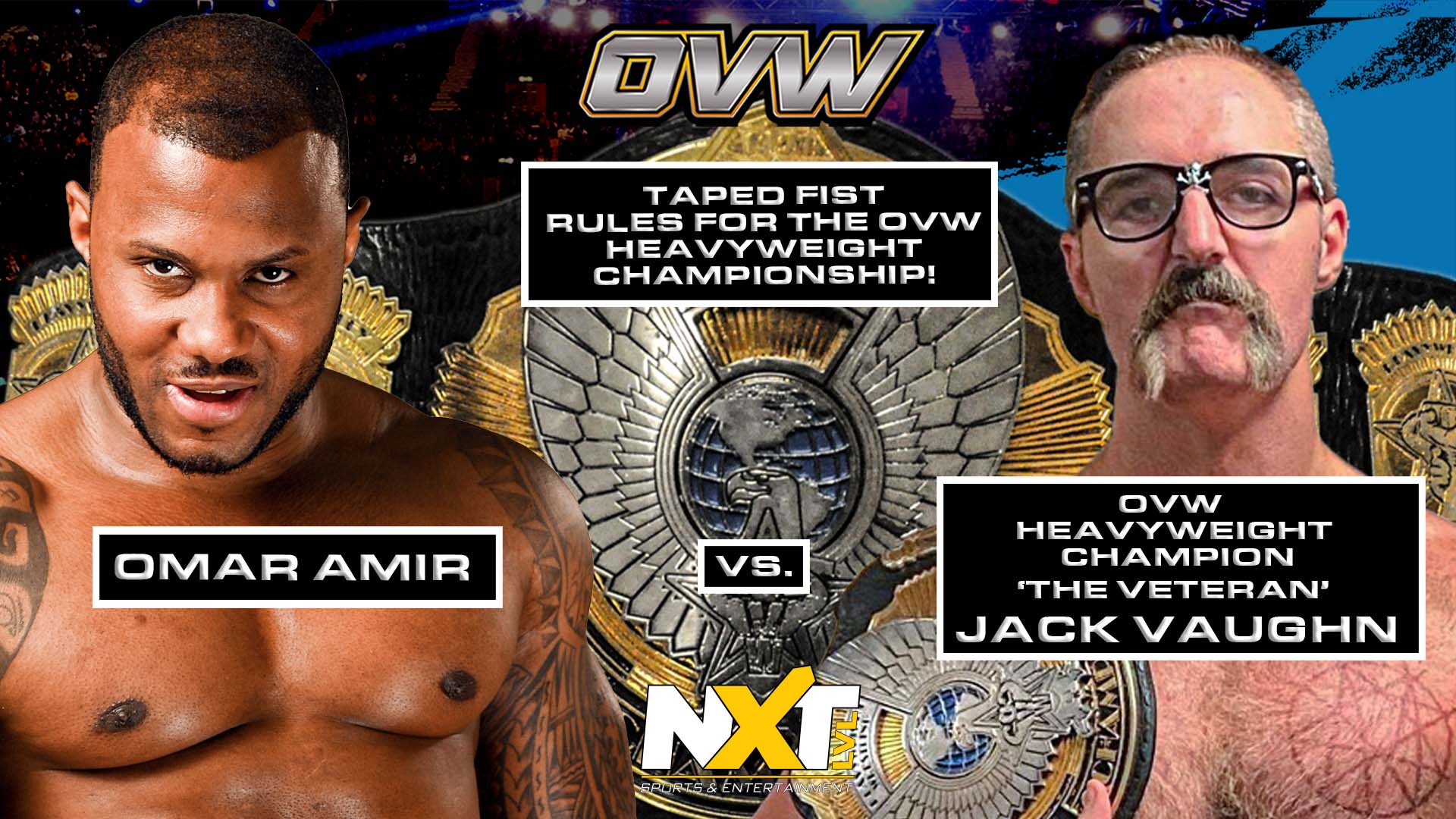 The Veteran Jack Vaughn
Jack made me sit up straight during his match last night when he LEVELED a kid with the hardest clothesline I've seen in Davis Arena since the days when the APA were in town. When JBL (then still known as Bradshaw) threw a clothesline in a dark match one night, I could feel it from the second row. I felt Jack's from the top row last night.
Lariat.@ovwrestling pic.twitter.com/NgsXFxCZ9s

— "The Veteran" Jack Vaughn (@vetjackvaughn) September 2, 2022
Jack Vaughn's Twitter says he's an eighteen year veteran. He's 6'6″ and looks like he fell through a time warp in Memphis, circa 1983. He's a no nonsense, hard nosed, old fashioned rassler who often makes mince meat of the younger guys in the ring. He's also clearly a locker room leader, based on some of his social media posts. The fans may hate him, but they have to respect him!
FYI, Jack only has a handful of followers on Twitter. That's a crying shame, because young wrestlers could learn a lot from the wisdom he dispenses.
Click here to follow The Veteran Jack Vaughn.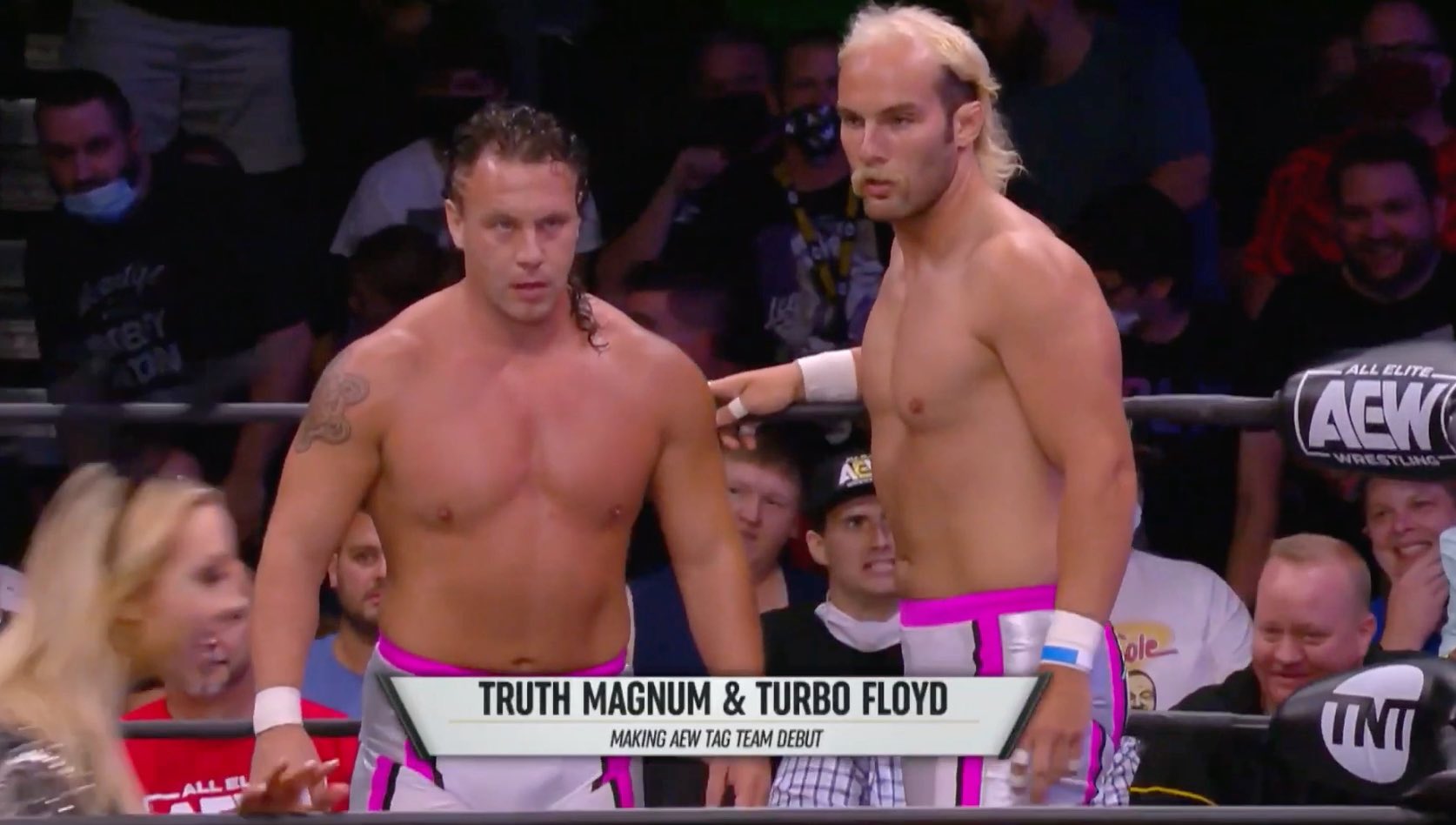 The Outrunners
Speaking of guys who look like they fell through a time warp! With their hot pink trunks, their decidedly old school facial hair, and Miami Vice like intro, The Outrunners look like the kind of guys my grandpa would have rooted for on Championship Wrestling from Florida.
Like everyone I've mentioned so far, Turbo Floyd and Truth Magnum are unabashed heels, dirty cheaters who look for every angle they can get to seize their advantage over their prettier, often younger opponents. They're equally adept with zingers and one-liners as they are with putting together some slam-bang action. They get plenty of boos from the ladies and the kids, but there's a solid block of guys who will cheer Truth and Turbo on against anyone.
Yep, I'm one of those guys.
The Outrunners went 25 minutes during the August 24 TV taping with Level X. No one was fidgeting or watching the clock during either bout. From start to finish, it was as entertaining a match as I've ever seen live, ending with a no contest finish that set up their Saturday night double dog collar match on August 27 that you can watch here:
It's worth noting that the Tornado Tag from August 24 really made me appreciate the boys from Level X. Axton Ray took an absolute beating in that bout and never quit. He and his partner Blanco Loco have a bright future. 
Truth Magnum was once known as Shiloh Jonze, and back in 2014, he was one half of one of my favorite matches ever at the Davis Arena with his former tag partner Raul Espinoza. I'll have to reprint that story sometime, as it was published in my now out of print book Eat Sleep Wrestle. 
Click here to follow Truth, and click here to follow Turbo. 
Freya the Slaya
Yep, another heel. The biggest, baddest woman in the OVW women's division, the Queen of the North is pretty universally hated by the OVW fans. That's due in large part to how well Freya plays the role given her. 
Freya has a lot in common with Jack Vaughn in the way she works. She's slower, more deliberate, and she makes every move look devastating. She may not be the current OVW Women's Champion, thanks in part to her "ex-boyfriend" referee Aaron Grider, but until someone knocks her off her pedestal, she is still the most dominant woman in the house. 
And shout out to Aaron Grider, who two years ago appeared in a short film for me during Covid. Aaron got a lot of TV time during Freya's recent run as champ, and he made the most of it. You hated him for letting himself be led around by the nose, and when Freya let her true feelings be known, your heart broke for him. 
You can follow Freya here, and you can follow Aaron here. 
Jay Malachi
Jay stands out on this list for two reasons. One, he's a babyface, the only one I'll write about in this column. And two… this kid didn't exactly grow on me. He grabbed me from the moment he hit the ring. 
Jay is tall, fit, and incredibly athletic. He flies high when he's on offense, and he flops hard when he's taking a beating. Every time I see this kid, he's doing something new in the air or off the ropes. He's incredibly fast and remarkably creative, and when he takes to the sky, it feels like he's in the air forever. 
Oh yeah, I almost forgot. He's also eighteen years old. 
I've seen Jay twice at OVW and once at Paradigm Pro Wrestling in Jeffersonville. I sure hope to see a lot more of him in the coming years, and I don't mean on the local scene. 
You can follow Jay here on Twitter. 
One final note. Al Snow's stated goal with OVW is that everyone who works at Davis Arena, from the wrestlers and refs to the backstage crew, can use it as a launching pad to the next level in professional wrestling. It's worth noting that Shalonce Royal, The Outrunners, and Freya the Slaya have all made appearances on AEW Dark. They're not the only current OVW roster members to do so, and they definitely won't be the last.