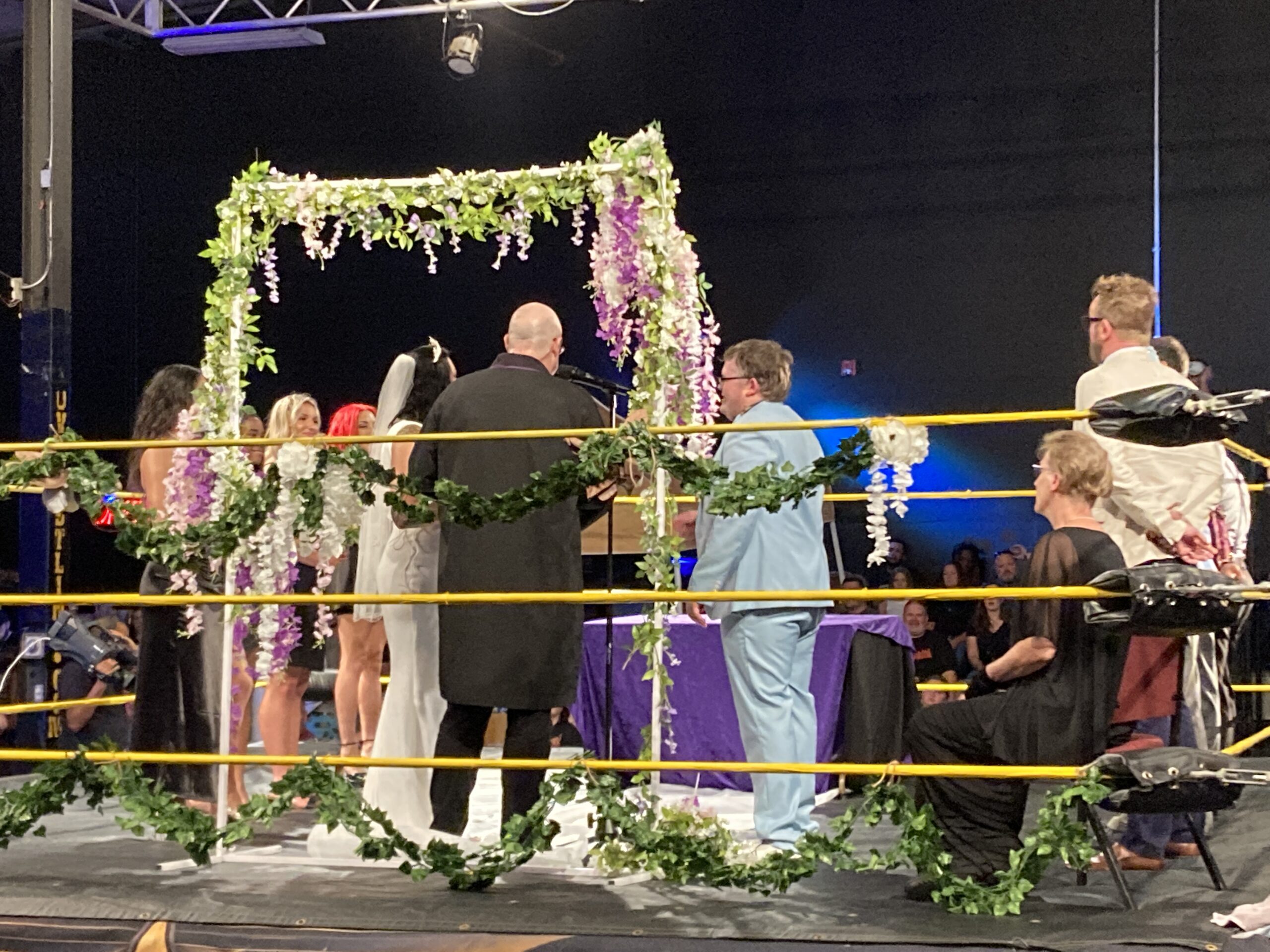 The cake was absolutely lovely. Baked by Little Monsters Sweets, the two layer delicacy created for Aaron Grider and Freya the Slaya sat on a table close to the hard cam side of the ring. Opposite the table, AJ McKay waited to officiate the ceremony as the lovely Carolyn Dawson sang the wedding party to the ring.
There was no question on anyone's mind as to whether this wedding would go smoothly. The only real mystery was who would go into the cake, and would they go face or butt first? This was, after all, a wrestling wedding, and they never end well.
The wedding kicked off OVW's biggest show of the year, appropriately titled The Big One, and OVW went all out for the nuptials. Aaron and Freya even had a registry on The Knot, which I understand was full of Star Wars toys.
I won't spoil what happened, because honestly, you need got go watch the whole show on Fite. Suffice to say, the wedding proved to be a great kick off for a fantastic event.
OVW usually packs a number of matches into their two hour TV tapings, but on this night, only four matches followed the wedding. As the name of the show suggests, they were all big ones:
The Outrunners and "The Machine" Doug Basham faced The Destroyers and Josh Ashcraft.
Crixus challenged "Superior" Tony Evans for the Kentucky Boy Brewing Company Heavyweight Championship.
Shaloncé Royal finally got her chance to face Haley J one on one for the OVW Women's Championship.
And Team OVW faced THEE FACTION in a Tables, Ladders, and Chairs match.
The crowd was not the largest seen in Davis Arena this year, but the crowd that attended January's Nightmare Rumble was hard to top. The crowd was red hot throughout the night and thankfully, the building was less hot than it has been the past few weeks, even with all those bodies.
Honestly, the crowd this summer have been more than double what they were a year ago. Word of mouth continues to spread that this is not the OVW of five or ten years ago. This is a new territory, a locker room filled with veterans and leaders who have all come to learn at the feet of the master Al Snow. This is old school, long term storytelling. This is a place where veterans like Cash Flo, Hy Zaya, Mahabali Shera, and more come to teach and be taught.
Again, no spoilers here. Only a very happy wrestling fan urging those who haven't to check out the action. The Outrunners, as always, delivered a high energy match with two equally talented foes in Gnarls Garvin and Big Zo. Tony Evans proves over and over he is a talent on the rise while Crixus proves to be a force to be reckoned with. Shaloncé and Haley J are very different but stellar talents. And how about Shaloncé's attorney PJ Jones? There were more signs in Davis Arena directed at him than the infamous Shannon the Dude tonight.
And then, came TLC.
Cash Flo, Tony Gunn, Luscious Lawrence, Omar Amir, and Cal Herro faced off against Jessie Godderz, EC3, Mahabali Shera, Luke Kurtis, and Joe Mack in an absolutely melee. Luke Kurtis continues to prove he's the best bumper in OVW, but Joe Mack takes the prize for the sickest looking bump not taken by a photographer. And what's this friction happening between Jessie Godderz and EC3?
Sorry, I said no spoilers, right?
OVW boasts a number of talented performers who may be on the move sooner rather than later. The Outrunners certainly seem bound for a larger spotlight. Kurtis should not be far behind him. He bumps like Dolph Ziggler and Ricky Morton, and he's an absolutely heat magnet. And Joe Mack? The dude has the look and the size to be something special.
All that being said, OVW sent a message last night. This promotion is no longer content with sending forth the superstars of tomorrow. The whole promotion looks poised for bigger things. Fans who were around last fall and summer have some hint as to what's coming next for OVW, and it's clear this roster is ready.
Only question is, is Davis Arena going to be big enough for what comes next?
OVW runs every Thursday night 7-9 pm at Davis Arena, 4400 Old Shepherdsville Road in Louisville. Visit www.ovwrestling.com for tickets.