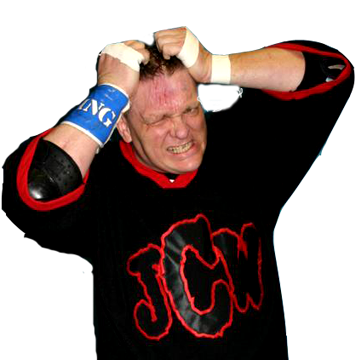 My friends at the Daviess County Library in Owensboro, Kentucky have been looking for a professional wrestler to come in and talk about what it's like to work in the business. They have not one, but two guests coming on December 7, and they couldn't have found a better choice.
Mad Man Pondo has been wrestling all over the world for two decades. He's been cut, broken, split open, and electrocuted all in the name of entertaining the fans. He hosted his own controversial public access talk show and used to work for the king of controversial talk shows, Jerry Springer. He's been a guide and mentor to many of the young stars now working the indies, though he's too humble to admit it. He's also the last guy you want in the car on a road trip, according to those same young men who have ridden with him over the last few years.
Pondo will be sharing his stories along side Crazy Mary Dobson. Dobson has only been in the business for four years but is well on her way to becoming a top star. She too is a world traveler, and in the last year, she's wrestled for Shimmer, Ring of Honor, and NXT and was a main event attraction for Resistance Pro Wrestling in Chicago. She is currently a Tag Team Champion for Juggalo Championship Wrestling alongside Mad Man Pondo.
Both Pondo and Mary were featured in my independent wrestling book, Eat Sleep Wrestle. You can get the book from Amazon in paperback or on Kindle, but just like wrestling, nothing compares to hearing the stories from the people who lived them.
If you're in the Owensboro or Evansville area, do not miss Mad Man Pondo and Crazy Mary Dobson at the Daviess County Library, December 7 at 6 pm.