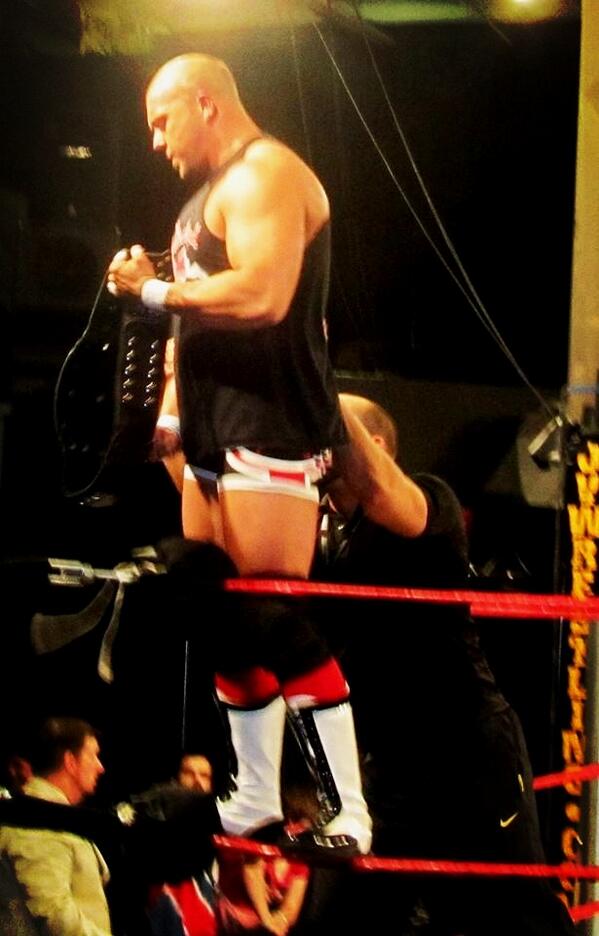 Randy Royal came up in the same class at OVW as Randy Orton and Brock Lesnar. He was there when the WWE was promoting students from Louisville to RAW on a weekly basis. Royal never got a shot at the next level like his classmates, but Royal is grateful for everything he has – including his life.
Royal grew up a wrestling fan, and when the opportunity to train with Danny Davis presented itself, he jumped at the chance. "I'd been been enamored with wrestling since I can remember, so I don't think my parents were TOO surprised. I'm sure at first they figured that I wouldn't stick with it. Seventeen years later, I guess I proved that theory wrong."
Royal started at OVW right around the same time the WWE came to down, anointing OVW as its developmental territory. "I was in same training class as Randy Orton, Dave Batista, Brock Lesnar, Shelton Benjamin. Jim Cornette was in charge of producing our television at the time. I was lucky to sit under that 'learning tree' as he would explain the psychology behind the matches."
Royal remained in Louisville working with OVW even after the WWE left town. He kept on wrestling, never suspecting he had a ticking time bomb inside him that would threaten his life.
"I was born with Wolfe-Parkinsons-White Syndrome. I had no idea. Then in 2012  I went into V-fib. They had to medically stop my heart and try to shock me back to life. The doctor said that they all agreed that after trying numerous times that they'd give it one final shock before they'd have to officially pronounce me deceased. I'm glad they did! I had to have a little surgery to correct that and hear I am."
Royal jokes that his favorite match is any match he doesn't get hurt, but in seriousness, he remembers his return to the ring after heart surgery with great fondness. "The amount of love and support from fans that I never dreamed would even know anything about 'Randy Royal' was overwhelming. I didn't think returning to the ring was even possible, so when I stepped through those ropes, I'll admit that I reared up a little."
Royal says he's the same man inside the ring that he was before his heart troubles came to light. "The only difference in that 'Randy' and this 'Randy' is that I see things a lot differently and make the most out of life."
To that end, Royal's number one goal for 2017 is to give back, sharing his knowledge with the next generation. "Wrestling is going to move on with or without me, and it doesn't owe any of us a thing; we owe it. It's allowed me to travel to places that a "poor kid from Georgia who moved to Kentucky and had to pay for his ticket to see Jerry Lawler wrestle in nickels and dimes" never thought he'd see. So if I can help someone else to even achieve that, I feel like I'm giving back in a sense."
Royal is working twice a week now with OVW, on Wednesday TV tapings and Saturday spot shows. He is also taking bookings outside OVW, "just to work with different people who have different styles."
You can find Randy Royal online on Facebook, Twitter, and Instagram. Be sure to watch all his social media profiles to discover another of Randy's talents: he's an artist, and a darn good one.