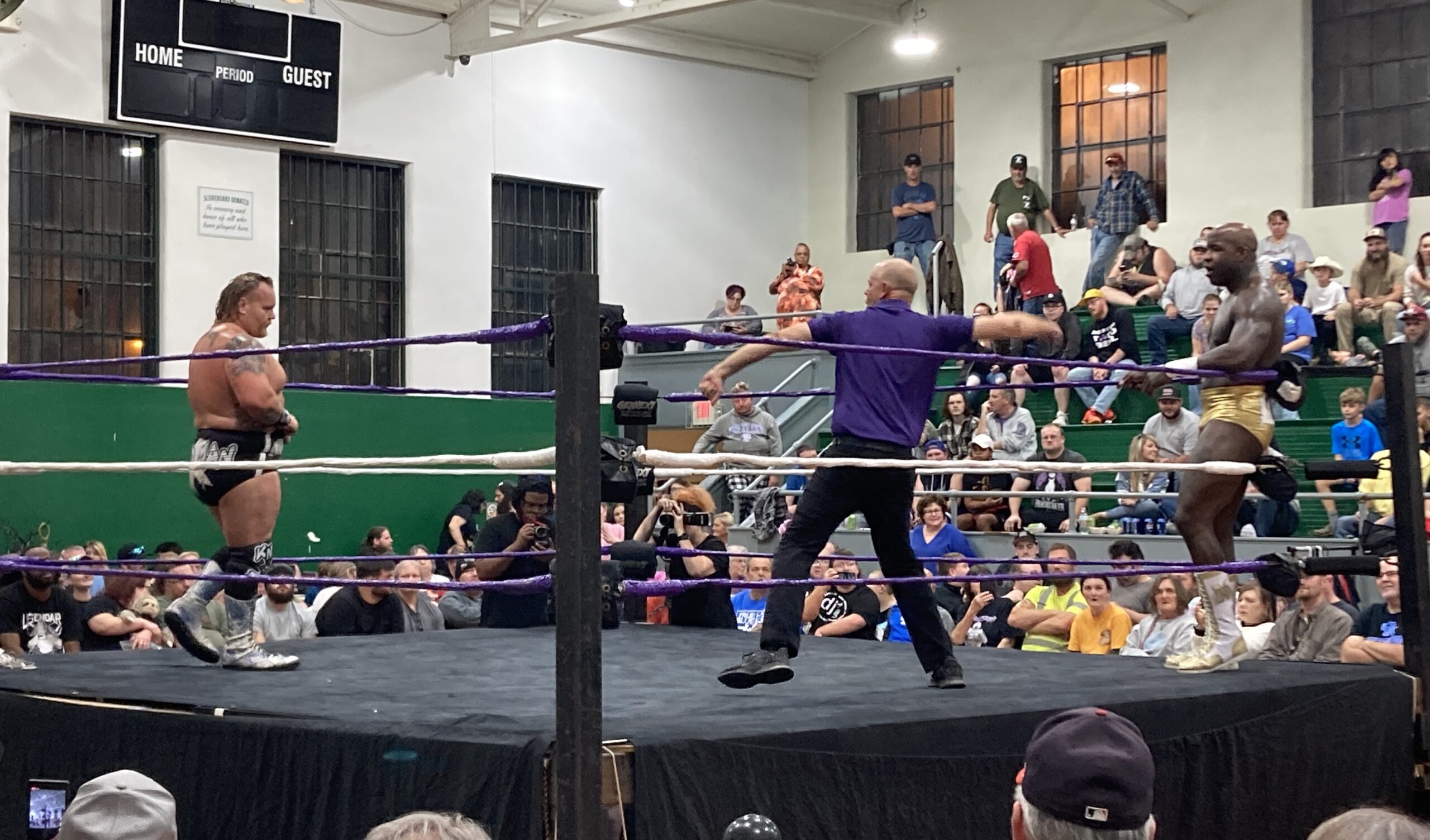 I started writing about independent wrestling nine years ago. One thing I learned early on: never do a write up about a wrestler who says they are retiring. Especially one known for their time on the independents. It's very clear wrestlers do not retire. Not completely. Like writers, musicians, actors, and other such artists, it's too much in their blood.
Case in point: Jake Crist. I wrote about his retirement seven, maybe eight years ago when he announced it on social media. I saw him in Ironton, Ohio a few months ago, and last night, November 4, 2023, he make local boy Jackie Thad look like a true threat to steal his Wrestling Revolver Heavyweight Championship in Cynthiana, Kentucky.
Jake's appearance in this small Kentucky town took place at the request of Generation Next Pro Wrestling promoter, and long-time fan favorite, Legendary Larry D. The occasion: Larry D's Last Stand. Yes, Larry D, a stalwart of IWA Mid-South who also worked for the NWA and Impact Wrestling, announced months ago his plan to retire after 22 years of wrestling, and a whole lot of family, friends, and rivals showed up to mark the occasion.
I know. I just said I don't write about retiring wrestlers. But this is not a blog about a retiring wrestler. It's about a show that celebrated a man, his career, his family (blood and otherwise), and above all else: pro wrestling.
"The Franchise" Shane Douglas made sure to drive that final point home after his match with Gen Next star Nate Gnarly. As Nate stood by, a steel chair in hand, Shane got on the mic and showed he still has it when it comes to cutting a promo. In a fiery sermon-like performance, he denounced all things sports entertainment while praising professional wrestling. He then put Generation Next over as a place where professional wrestling lives and Larry D as a man whose work kept it alive and well.
Douglas was one of the bigger names in the house to celebrate Larry D. Alex Zayne took on Gen Next's Kellin Craven. Crazzy Steve defeated Gaston LaRue. "The Mouth of the South" Jimmy Hart was in the house, greeting fans and signing autographs. And the five woman scramble included Netflix Wrestlers star Amazing Maria as well as Larry's wife and fellow grappler, Paige Jones.
Everyone who took part in the event had been touched by Larry D in one way or another. Some, like Crazzy Steve and "Unsigned, Don't Care" Aaron Williams, were colleagues, fellow road warriors, locker room mates. Some, like Maria and referee Aaron Grider (also of Wrestlers on Netflix) were students. Many work for Larry today as part of the growing, thriving independent dubbed Generation Next.
You can judge a man by the number of people who call him a friend, a mentor, and inspiration. By that measure, Larry D stood tall on Saturday night.
Multi-man (and woman) matches abounded on a card jam packed with talent. The six-man Hoss Scramble that kicked off the evening's second half was a tremendous highlight, featuring super heavyweights Xoziac, Derek Neal, Drew Dillinger, Brandon Taggart, and the Monster, Kongo Kong. The smallest man in the ring was, pound for pound, arguably the strongest man on the show: Shane Mercer. The behemoths hit hard, took to the air, and defied gravity in numerous ways. Shane Mercer hit his improbably backflip off the second rope while carrying Drew Dillinger, and Kongo Kong actually joined in the diving action.
Jake Crist and Jackie Thad followed the Hoss Scramble, setting the stage for the main event. Larry D chose a man he worked with at Impact to be his final opponent, Moose.
Can I just say, what a thrill it was to actually see Moose wrestle? As an off and on Impact subscriber, Moose was always one of my favorites. He's bigger in real life than he appears on TV, and after babyfacing the crowd briefly, he set himself up to be the heel, telling everyone how excited he was to put an end to Larry's career.
The Legend had been in and out of the arena all night. This was his show, and he not only made sure things ran smoothly, he made time to take photos and sign autographs himself. Everyone wanted to shake his hand, to say thank you, and share the moment. I haven't known Larry very long, and I still can't say I know him well. I can tell you he's a kind and generous man, a true Kentucky gentleman who has given far more to pro wrestling than he has taken away.
I won't spoil this match any more than I have the others. The show is available on pay-per-view, and I'd encourage lovers of Larry D and good, grassroots professional wrestling to watch. I will say that Larry D went out in the most traditional, emotional fashion you could imagine. Moose switched back to babyface, expressed his love for Larry, and stepped aside as Larry's family joined him in the ring.
Tears flowed all over the building as Larry took a seat and Paige unlaced his boots and removed them. She took Larry's pads as well, laying them on top of the boots. Shane Douglas's words rang true: this is professional wrestling. This is as traditional a finale as any professional wrestler ever had.
Larry took to the mic and thanked the crowd. he thanked his family, assuring them he was at peace with his decision, a decision he'd made for them. Wrestling take a man or a woman many miles all over the country, all over the world. As much as wrestlers sacrifice for the business they love, their families often sacrifice more. Larry made it clear, this choice was about his family. They hugged. They cried. They celebrated.
Then Larry assured the fans that while part of his story had come to a close, a new one was beginning. The best is yet to come for Generation Next, and anyone who wanted to be a pro wrestler was welcome to sign up and train at Legends Pro Wrestling Academy in Cynthiana.
It was especially fun watching the event alongside a former high school classmate who lives in nearby Georgetown. Lisa's not what you'd call a wrestling "fan", more a spectator who got into watching thanks to her teenage son and her friendship with me. We were both near the top of our class in high school, and she went on to graduate from a Big Ten university and become a highly decorated school teacher.
Outside of those circumstances, she's one of the last people I'd ever expect to see walking into such a place. But she cheered and gasped and applauded and laughed as hard as anyone in the building, proving that there's something about the drama of pro wrestling that connects with everyone.
I've witnessed some huge wrestling events in person: Wrestlemania 27; the Survivor Series debut of The Shield; ALL IN in 2018. As exciting as those shows were, some of my favorite memories took place in smaller towns on smaller shows. I love all my friends and family at FTC in Ashland, Kentucky. I enjoyed the night I spent in Somerset with two dearly departed friends: Tracy Smothers and Hurricane JJ Maguire.
You can add Cynthiana to that list. Generation Next has something special going on. The fans were packed shoulder to shoulder all the way to the rafters Saturday night, and they were more energized start to finish than the AEW crowd I saw in Louisville just three days prior. The wrestling was enjoyable. Every match had something special, and the big name guests were more than willing to put the young stars of Gen Next over.
More than anything, Gen Next has Larry D. He may never set foot in a ring to wrestle another match, but he has a new mission. The loving family man and ridiculously busy entrepreneur (How many businesses are you running, Larry?) pledged to continue pouring his experience and wisdom into a promising roster of kids down in Cynthiana. Larry certainly belongs on the short list of great pro wrestling teachers in Kentucky, a list that includes Al Snow and Bobby Blaze.
Click here to follow Gen Next on Facebook.
Click here to follow Legends Pro Wrestling Academy.
Click here to order the pay-per-view replay.