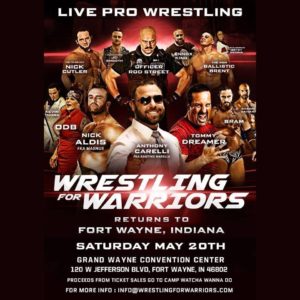 One of the things I love most about independent wrestling is the huge heart the fans, wrestlers, and promoters have for helping others. Wrestling is a great vehicle for drawing attention to a cause and raising money to do some good. That's the focus of a group I got to know at Heroes and Legends in Fort Wayne.
Wrestling for Warriors is a promotion that runs shows specifically to draw attention to a cause and do some good. The net profits from each show are donated to a chosen cause, such as Pediatric Cancer, Cerebral Palsy, Muscular Dystrophy, and Neurofibromatosis. Wrestling for Warriors also uses some of those profits to benefit patients in need directly by buying medical equipment patients otherwise could not afford.
Wrestling for Warriors strives to put on a quality wrestling show with name talents, including Kevin Thorn, ODB, Tommy Dreamer, and the former Santino Marella, Anthony Carelli. Fans can pay to get autographs and photos with their favorite stars just like other shows, but Wrestling for Warriors also has a program that allows people to nominate children with a debilitating illnesses to meet their favorite stars at no cost to them.
Wrestling for Warriors will be in action on May 20 in Fort Wayne, Indiana. For event and ticket information, as well as information about the promotion itself, please visit the Wrestling for Warriors website or follow them on Facebook.