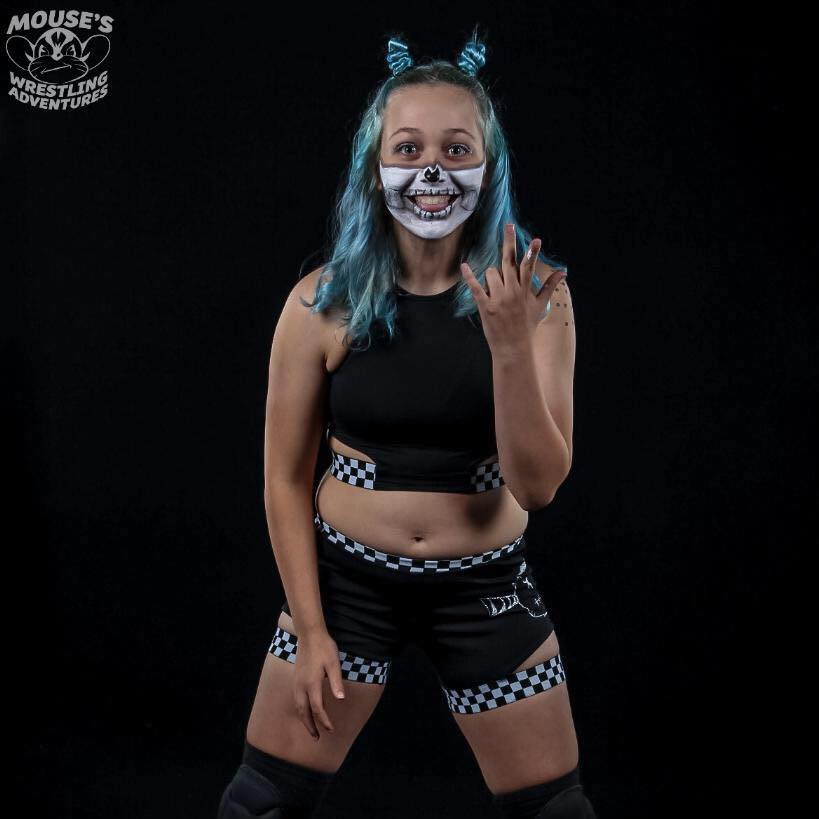 Girl Fight Wrestling has granted Eat Sleep Wrestle total access to the roster for its second midnight show, Midnight Girl Fight 2: Howdy, Pilgrim! Today is part six of this series, featuring Billie Starkz.    
There's something different about Billie Starkz, something you just don't see often in independent wrestling. Although she only made her debut in October, the young star has her own quirky approach to life and to wrestling. She grabbed a lot of people's attention a few weeks ago on social media, when she stole fellow Grindhouse Academy product ZDP's prized "Top of the Class" plaque and paraded it around town for a week. And she certainly got my attention when, unlike any other member of the Girl Fight roster, she submitted the answers to her interview written on paper from a wide ruled notebook.
"I'm enjoying every minute," she says, expressing her joy at finally fulfilling a dream. "I have had the chance to met and train with amazing people. I learn new things all the time, and everyone at Grindhouse is willing to be my rag doll. Aaron LaMotta has taught me how to make sure to always keep the crowd's attention. I've also been able to just be myself, which makes everything easier when I interact with the fans."
Billie is well aware of the reputation Girl Fight has, both as a promotion that launches careers and showcases some hard-hitting action. "It's amazing! I have been to many shows as a fan, and I remember seeing Crazy Mary (WWE's Sarah Logan), Taeler Hendrix, and Amazing Maria."
Billie also credits Girl Fight's founding father Mad Man Pondo with helping her pursue her own dream. "He introduced me to 2 Tuff Tony, and Tony let me train at Grindhouse. Now that I can be on the show, expect to see me at all the Girl Fights!"
Billie certainly doesn't lack confidence, but she's facing a very tough challenge in Samantha Heights. "Samantha has been my mentor and big sister through this crazy thing called wrestling." I reminded Billie that Samantha once pulled a knife on Hardcore Heather Owens in a weapons match at Girl Fight. Billie shrugged it off. "She is an amazing wrestler, but I know all her tricks, including the knife in the boot. She doesn't know all of mine!"
Billie is eager to step in the ring with Samantha next week, and she wants to see the Arena packed for the midnight show. "Fans need to show up because Girl Fight is about to take over the Kentuckiana area! Good things are happening! You are going to see some new wrestlers and some much loved wrestlers all in one show. Plus, no one has work, school, or anything else until Thanksgiving dinner Thursday!"
I beg to differ, Miss Starkz. I'll be up at 9 am to watch the Macy's Parade and start prepping my sides for the family dinner. But that won't stop me from being at the Arena to see how you fare against Samantha Heights.
Fans can see Billie and more at Midnight Girl Fight 2 on November 21 at the Arena in Jeffersonville, Indiana, 1416 Spring Street. Bell time is at 11:59 PM.