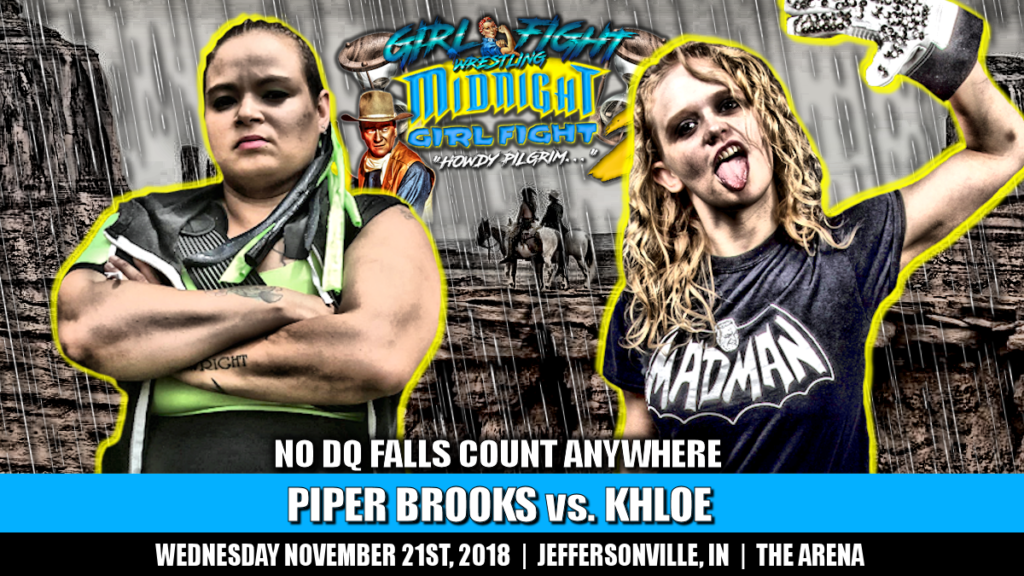 Girl Fight Wrestling has granted Eat Sleep Wrestle total access to the roster for its second midnight show, Midnight Girl Fight 2: Howdy, Pilgrim! Today is part three of this series, featuring Piper Brooks. 
To many wrestling, fans, an all-women's show is a gimmick in itself. Never mind that there are a number of great all-women's promotions who have put on hundreds (yes, WWE, hundreds) of all-women's pay-per-views. To some fans, it's novelty enough in itself. Girl Fight likes to push the boundaries of how people view women's wrestling. Not only are they running their second midnight show, this one features a match with a no disqualification, falls count anywhere stipulation between two very brutal, hard-hitting women.
A former MP in the US Army, the powerful Piper Brooks is one half of that match up, facing the smaller but very dangerous Girl Fight veteran in Khloe. Khloe just made her debut for Juggalo Championship Wrestling, as blood-thirsty a crowd as you'll find anywhere, but Piper is no stranger to ultra-violent matches. "I've had a no dq and last woman standing match. I actually really enjoyed them. I'm pretty excited for the falls count anywhere part."
Brooks and Khloe will likely send fans running for cover, and if Brooks has anything to say about it, they will give the fans something to remember. "Lots of hard hitting. Smack talking. Biting. Maybe blood. Lots of fun."
Piper is thrilled such a match is taking place at Girl Fight, and she's grateful for the opportunities women's promotions offer. "They make it easier to get recognition. People take the female wrestling more seriously because they see it happening more. We can do the same stuff the guys can. Or better in some cases."
Midnight Girl Fight takes place the evening before Thanksgiving, and like all of the other women on the card, Piper sees no good reason for fans to skip this show. "I mean, unless you'll be at the pound rescuing pit bulls, there's no other place to be. You get too see this amazing all female wrestling show, where we put it all on the line. Literally, there's nothing better."
Fans can see this match and more at Midnight Girl Fight 2 on November 21 at the Arena in Jeffersonville, Indiana, 1416 Spring Street. Bell time is at 11:59 PM.