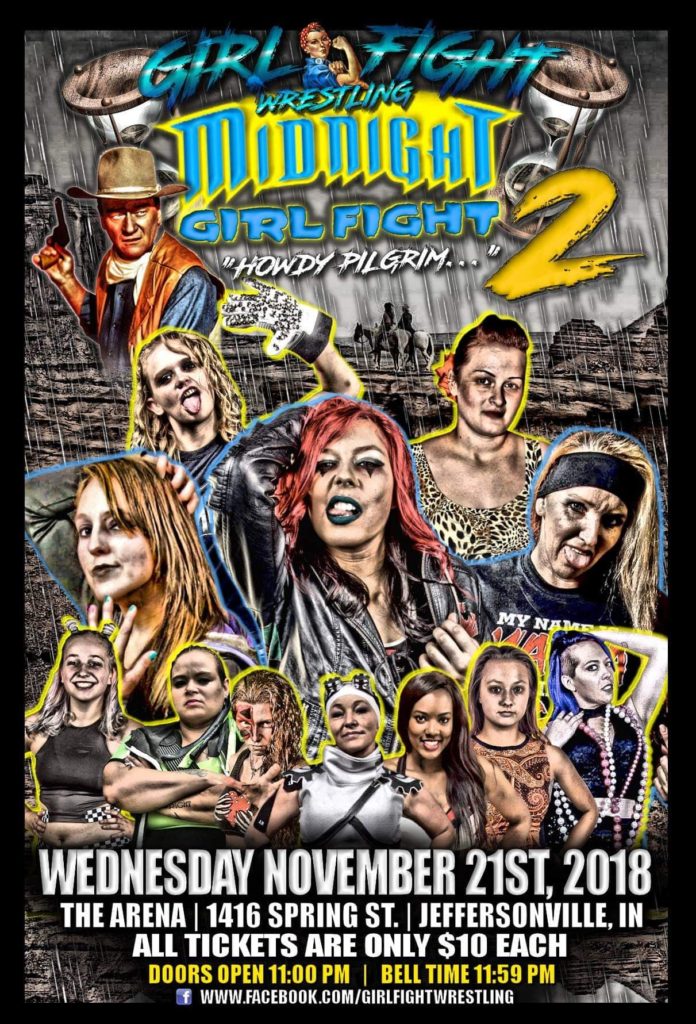 If you've read Mad Man Pondo's book, you know the reason Girl Fight was created. With so little female wrestling talent in the Louisville area, Pondo chose to create a promotion that would allow young, new female wrestlers could learn from and network with veteran wrestlers.
To say the promotion has been a success in that regard would be an understatement. A number of the girls who worked for Girl Fight the promotion started are now working for Shimmer, Shine, Ring of Honor, Impact, and even WWE. Pondo filled a void in the women's wrestling scene, providing a stepping stone from the training schools and local promotions to the larger women's wrestling stages. What's exciting to me about the poster for Midnight Girl Fight 2: Hello Pilgrim that the promotion is still providing that vital link for younger talent.
Fans of Girl Fight will see a number of familiar faces on November 21 at Midnight. (Yes, that's the night before Thanksgiving!) Randi West, Samantha Heights, Amazing Maria, Hayley Shadows, Khloe, and Thunderkitty are all scheduled to appear. Fans will also see Charlie Kruel, a Grindhouse Academy trainee who had a tremendous run at the last Girl Fight show including a win over Mickie Knuckles and has expanded her territory rapidly over the last year. Randi West's protégé Alice will be making her Girl Fight debut at the show along with Grindhouse Academy's young star, Billie Starkz.
As always the card is subject to change, but fans can expect to see:
Samantha Heights vs. Billie Starkz
Randi West vs. Alice
Piper Brooks vs. Khloe in a No DQ, Falls Count Anywhere Match
Amazing Maria vs. Lexxie Green
Hayley Shadows vs. Charlie Kruel
Cassandra Golden vs. Thunderkitty
Midnight Girl Fight 2 takes place at the promotion's home base, the Arena at 1416 Spring Street in Jeffersonville, Indiana. For those who are curious, the last show ended just before 2:30 AM, so you should have plenty of time to get home and catch a few winks before the Macy's Thanksgiving Day Parade steps off at 9 AM.
Click here to go to the Facebook event page for ticket information and other details.