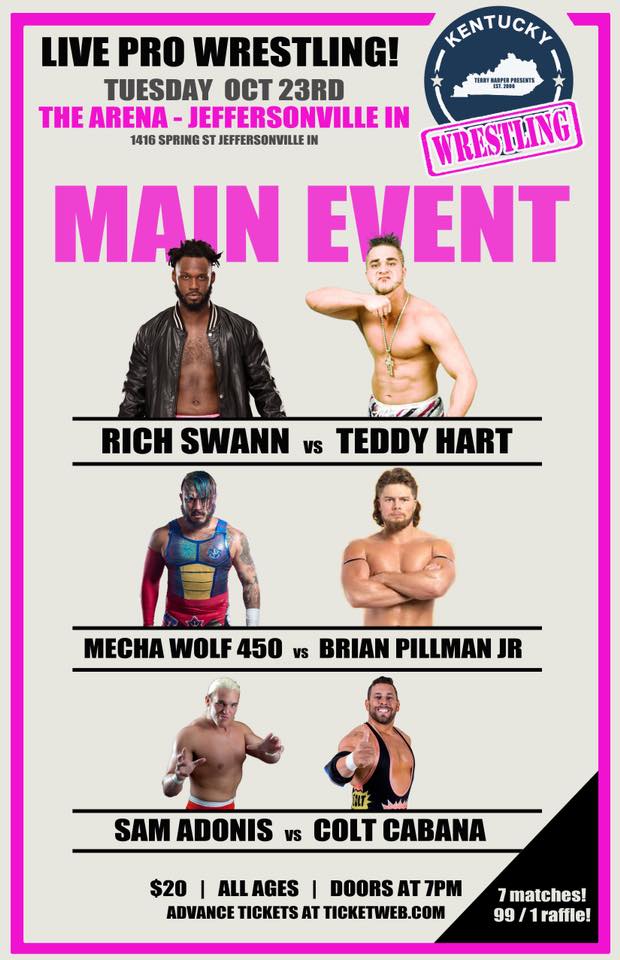 The great thing about a Terry Harper wrestling show is that you get to see faces and matchups you would not normally see in the Louisville area. Last night was no exception. The fans who came out were treated to a fantastic card capped by what many fans said is the best match they've seen all year.
There were a number of outstanding matches last night and some creative and unusual characters in the ring, including "Man Scout" Jake Manning with his camping tent and scouts manual to MJF, who is better than you and definitely not Colt Cabana's son. Manning and MJF seemed like an odd pair on paper, but they put on a great match that included a brief appearance by Colt Cabana, who as I already told you, is not MJF's father.
Colt was once a regular for IWA Mid-South in this area, and he received a warm welcome from the fans. The same can't be said for Sam Adonis, the CMLL superstar who carries a Donald Trump flag to the ring. Adonis and his masked manager tossed out paper towels to the crowd and openly expressed their great love for the president. You have to hand it to Adonis. Being a pro-Trump heel in Mexico, even in 2018, is a very dangerous but very, very successful gimmick. Once again, Terry's eye for perfect match ups was on display, as Colt got the victory and encouraged everyone to register and vote afterwards.
A special salute is due to local wrestler Matt Atreya, who filled in as one half of a tag team called "Team They Showed Up" for a bout with the Mercy Brothers. It was a bona fide squash match, but Atreya's one liners made it memorable.
Sometimes injuries and other plans force promoters to invoke the "card subject to change" clause, and that happened twice last night. The Bomb Shelter's Randi West filled in for Girl Fight champion Aja Pereira in a match against Sam L'eterna. The cocky young L'eterna is a Lance Storm trainee and more than held her own against the toughest broad in time and space. L'eterna has a world of potential to match her New York attitude, and West is always a fan favorite in this area.
The injury bug pulled Brian Pillman Jr., out of his much-anticipated match up with International superstar Mecha Wolf 450, opening the door for Owensboro's Teddy King to fill a spot. Wolf and King put on a rough, hard-hitting affair that included Mecha Wolf 450 landing the hardest suicide dive I've ever seen on King. Wolf won the battle, but Teddy King, who spent as much time talking smack with the fans as he did wrestling, proved he belonged in the spotlight. Like him or not, he is a star to watch.
Side note: Teddy King was just announced for a match Friday, November 9, against MJF at Pro Wrestling Freedom's "Hot Dog and a Handshake" at the Arena in Jeffersonville. If you weren't planning on attending that show already, this match is a potential show stealer.
Wolf and King would have been the match of the night, had the main event not exceeded all expectations as it did. Teddy Hart is the oldest of Stu's grandchildren, and his family's legacy of greatness is evident in everything he does in the ring. This was not his first time stepping in the ring with former WWE Cruiserweight star Rich Swann, and the chemistry between the two was undeniable. The two did plenty of high-flying spots, but they also twisted each other in knots, trying for a submission.
There was a scary moment near the end when Hart slipped off the top rope and fell on his neck, but when Swann went for the quick pin, Hart kept out and kept going… and going… and going. The moment he secured a victory of Swann with a three count, the crowd was on its feet, cheering "Thank you both!" and "Please come back!"
For what it's worth, the controversial Teddy Hart was exceptionally gracious in his in-ring speeches before and after the match and more than generous with his time. He shook hands with every fan he could on the way to the ring and paid homage to his family's incredible legacy.
Brian Pillman, Jr., who accompanied Teddy to ringside, was also very gracious and approachable. He's got a good head on his shoulders and a real love for the business. He also has a look that screams future WWE Superstar. Let's hope the injury bug will leave him alone so he can build some real momentum!
I had the chance to meet a few wrestling students and rookies in the crowd as well. Hood Wolf is a Joseph Schwartz student who was willing to shoot some video for an upcoming Eat Sleep Wrestle comedy short. He's got a lot of enthusiasm for the current state of the business and a great appreciation for the past. And then there's the sweetheart of Grindhouse Academy Billie Starkz, who had her first match earlier this month. Billie is bright, energetic, and has a smile that's infectious. I wish them both all the best.
Rumor has it Terry Harper has one more show in him this year, possibly Christmas time. He wasn't forthcoming with what gifts he will bring on his next card, but given his track record, it's sure to be another can't miss.