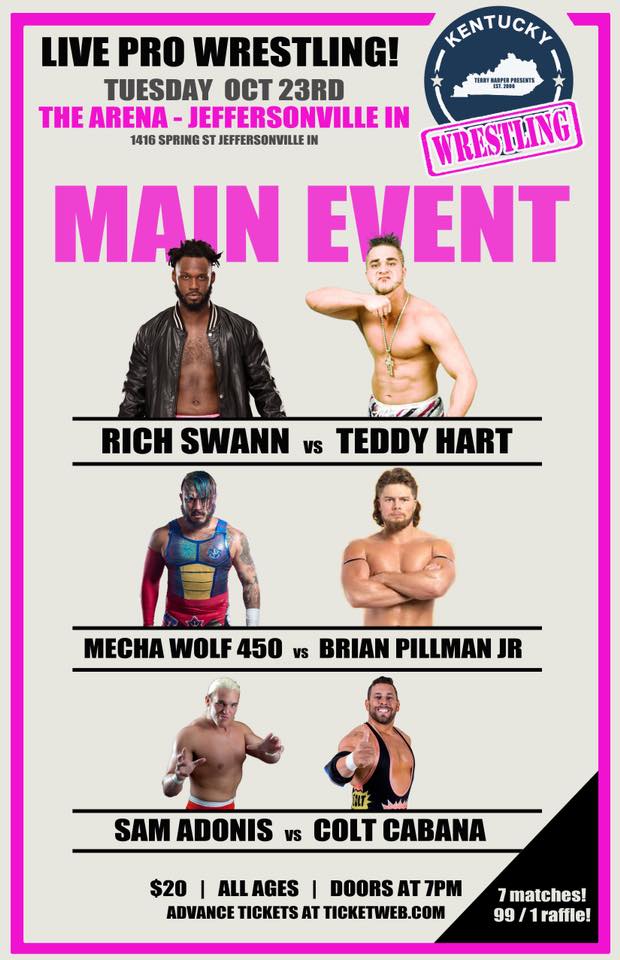 There are different types of wrestling fans in the Louisville area. There are OVW-only fans and IWA-Mid South Kool-Aid drinkers. There are fans who never miss Pro Wrestling Freedom, fans who never miss Paradigm Pro Wrestling, fans who never miss Grindhouse, and fans who love all three. There are some fans who never miss any show, anywhere. And there are many, many fans who never get out to an independent show because they only watch WWE.
I'm not here to shame the WWE-only fans. (Okay, I might as well. Shame on you!!) Regardless what kind of fan you are, I am here to tell you you need to be at the Arena tomorrow night for Terry Harper's next show.
Terry is normally a concert promoter. In the past year he's booked acts like Chanel West Coast, Fozzy, and Clownvis Presley. But once or twice a year, he calls his pal Mad Man Pondo and says, "I wanna put on a wrestling show. Who should I book?"
This week, Terry Harper brings you the Louisville area debut of Brian Pillman, Jr., a second generation star who has become a must-see attraction in only his first year in the business. He also brings you Louisville fan favorite Colt Cabana, former WWE Cruiserweight star Rich Swann, and wrestling royalty in the form of Teddy Hart.
Aja Pereira will also be on the card defending her Girl Fight Women's Wrestling Championship. Other stars include Mecha Wolf 450, Sam Adonis, Maxwell Jacob Friedman, Jake Manning, The Mercy Brothers, Sam Leterna, Clayton Cosby, and Jordan Kage.
The Arena is located at 1416 Spring Street in Jeffersonville. Get there early if you go. Terry Harper's events are well-attended, and it is likely to sell out!