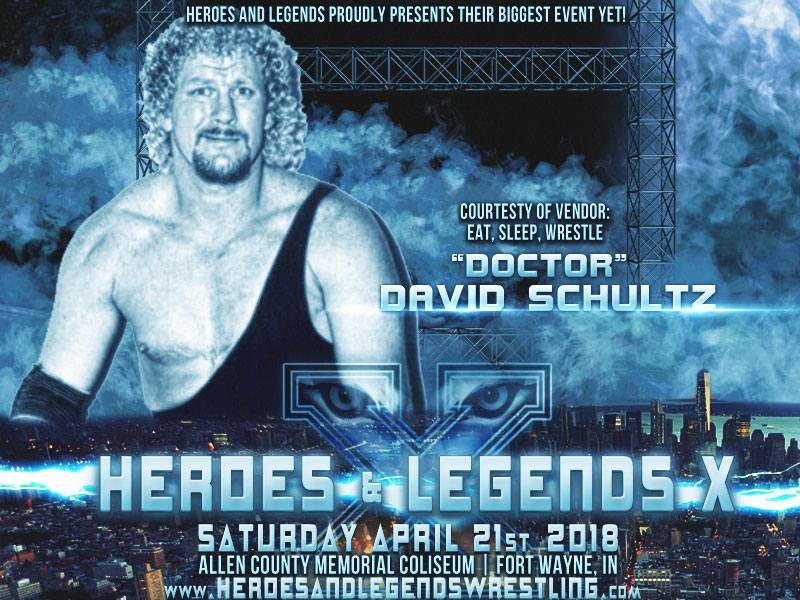 Jayson Maples has something special going in Fort Wayne, Indiana. Heroes and Legends is a twice a year fan fest and wrestling show that combines the past and present seamlessly, and my second trip to this event proved to be just as memorable as the first.
The tenth edition of Heroes and Legends took place Saturday at the beautiful Allen County War Memorial Coliseum, beginning with a fan fest at noon. Early arrivals had the opportunity to meet my good friend Dr. D David Schultz as well as Greg The Hammer Valentine, Madusa, Bob Orton, Mean Gene Okerland, Slick, Tatanka, Koko B. Ware, and Tito Santana. Mixed in with these legends and some great vendors and artists (including the super talented Erik Hodson, who designed one of my science fiction book covers were some of today's hottest independent stars like Jimmy Jacobs, Sugar Dunkerton, oVe, Sami Callahan, Veda Scott, Jessicka Havoc, Sawyer Fulton and Kongo Kong.
At 6:30 the lights dimmed and it was time for some wrestling action. This year's show was a much longer card than the Spring 2017 edition, and every match delivered. Regular readers will know I am a sucker for heels who get into it with the kids, and #TheDraw Sami Callihan made my night when he went after two little boys in the front row. Callihan looked like Tommy Lasorda going after an umpire after a bad third strike call, screaming red faced at the boys and pretending to kick dirt on their shoes.
The past mingled with the present during the show just as they did during the fan fest headlined by Tatanka taking on Kongo Kong in a tremendous main event. Tito Santana and Cowboy Bob Orton gave fans a thrill when they stepped in the ring with the Heroes and Legends tag champs, Legendary. Bob Orton shocked the crowd with an RKO out of nowhere that nearly blew the roof off the building.
Sugar Dunkerton promised a surprise guest manager for his match against Jimmy Jacobs the day before the event. After making his entrance, Sugar introduced WWF legend Slick as his manager for the evening. Reverend Slick has not lost a step in his years away from the ring and gave Sugar the backup he needed to defeat the Zombie Princess. Referee Max Recon even got into the action and did the "Zebra Trot" when Jimmy Jacobs refused to get into a dance contest with Sugar.
With his tenth show in the rear view mirror, Jayson Maples has turned his eyes to fall and the eleventh edition of Heroes and Legends. My sincere thanks to him for a great day of wrestling and nostalgia. Thanks as well  to all the fans who came to see Dr. D, and my sincere apologies again to those who did not make it in time before he had to leave.